Now, YORK can cool your home
and your wallet - with natural gas.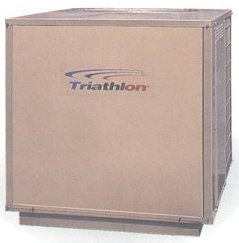 Introducing an extraordinary new kind of natural gas heating and cooling technology. The YORK Triathlon uses a specially designed natural gas engine to provide families with the ultimate in year-round comfort, technology and efficiency.
It's the smartest home comfort system ever created. You can set the thermostat on a YORK Triathlon and forget it. With its unique variable speed engine and microprocessor controls, YORK technology takes over to keep your family comfortable, no matter how harsh or hot the weather.
And you'll enjoy unprecedented energy savings as the Triathlon could cut heating and cooling costs by up to 50% - over a natural gas furnace/air conditioner system or an electric heat pump.
It's high tech for the home front. Call your YORK "Doctor of Home Comfort", Vintage Services, for the high performance details, and all the winning benefits of The YORK Team Advantage. Vintage Services is offering for a limited time, a natural gas heating and cooling system special - SCE&G utility financing available at 6% for up to 60 months.
Click Here for more information on all of YORK's products.
---